More pictures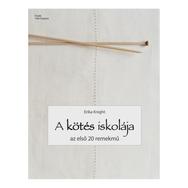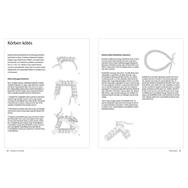 A kötés iskolája - az első 20 remekmű
Pattern language:
Hungarian

A kötés iskolája igazán nagyszerű könyv a kötés elkezdéséhez. A kötet az "Alapanyagok, eszközök és technikák" című fejezetben az alapvető technikákat mutatja be, a "Modellgyűjtemény" című fejezetben pedig 20 modell kapott helyet, amelyek között kezdő mintákat és nagyobb kihívást jelentő darabokat egyaránt találunk. Minden leíráshoz tartozik egy mesterkurzus, amely lehetőséget nyújt arra, hogy kötőtudományunkat egy vagy két új fogással vagy ismerettel bővítsük. A modellekkel sorban is haladhatunk, minden egyes mesterkurzussal fokozatosan mélyítve tudásunkat, vagy a minták között ide-oda ugrálva egy bizonyos technika csiszolásán és tökéletesítésén is dolgozhatunk. Kezdd el bátran a kötést ezzel a nagyszerűen felépített könyvvel,  a sikerélmény garantált!

Szerző: Erika Knight
Kiadó: Cser Kiadó
Nyelv: magyar

Stock:

out of stock

Loyalty points available to receive:
200

Manufacturer:
Description
A tartalomból:
- Anyagok és technikák
- Mintagyűjtemény
- Modellgyűjtemény: Sál, Mosirongy, Gombolás nélküli párnahuzat, Jegyzettömb, Bevásárlótáska, Csíkos párnahuzat, Csíkos takaró, Sapkák, Textilcsíkokból kötött táska, Ujjatlan kesztyű, Kerek ülőpárna, Síkban kötött zokni, Körben kötött zokni, Sál csavart mintával, Melegvizespalack-tartó fonott csavartmintával, Sakktáblamintás takaró, Fair Isle tűpárna, Rózsás teáskanna-melegítő, V nyakkivágású női pulóver, Zsebes női kardigán
Parameters
| | |
| --- | --- |
| Craft: | knitting |
| Format | Paperback | 144 pages |
| Dimensions | 216 x 216 x 16mm | 660g |
| Publication date | 2018 |
| Publisher | Cser Kiadó |
| Language | Hungarian |
| Author | Erika Knight |
Reviews
There are no reviews for this product.
Free Delivery
FREE DELIVERY: to your address or parcel shop by GLS: in orders above 25.000 HUF
REDUCED DELIVERY COST :to your address 990 HUF or parcel shop 890 UF by GLS: in orders between 16.000-24.999 HUF