More pictures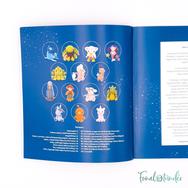 Amigurumi Varázslények - amigurumi könyv
Pattern language:
Hungarian

Fényesítsd ki a horgolótűdet és vedd birtokba a legkényelmesebb fotelt! Csupán ennyi kell, hogy máris belekezdj a könyvben található 14 varázslatos amigurumi figura egyikének elkészítésébe. Sárkányok, unikornisok és még sokan mások... A bájos teremtmények fantasztikus világa garantáltan el fog bűvölni. Merülj el a tenger habjaiban egy sellővel, menj víziszörny-lesre és sárkányvadászatra, vagy kövesd a tündéreket és unikornisokat az erdő mélyére. És még ennél is több meglepetés vár rád a szivárványon túl!

Kezdők és gyakorlottabbak egyaránt örömüket lelik majd a lenyűgöző fantázialények birodalmában, amelyet meghódíthatnak a horgolótűjük segítségével. Valamennyi figurához részletes mintaleírás tartozik, jól követhető rajzok mutatják be a használt öltésfajtákat, így minden egyes figura könnyedén saját fantáziánk szerint még egyedibbé varázsolható.

A sajátkezűleg készített ajándék nemcsak divatos, hanem értékes is, hiszen benne van szívünk-lelkünk, ami igazán egyedivé, szeretetteljessé teszi a meglepetést. Ezek a bájos horgolt figurák tökéletes ajándékok minden bébi és kisgyermek számára, és akkor még nem említettük a játékra kész felnőtteket… Az Amugurumi, a Japánból származó, pofonegyszerű horgolós technika nagy előnye, hogy még a kezdőknek sem okoz fejtörést, már kevés gyakorlással is villámgyorsan elkészül egy kedves és különleges ajándék.

A szeretettel magunk készítette játék sokkal többet nyújt gyermekeinknek, mint a boltban vásároltak.

Kiadó: Tölgy Kiadó
Nyelv: magyar

Stock:

out of stock

Manufacturer:
Parameters
| | |
| --- | --- |
| Craft: | crochet |
| Format | Paperback | 128 pages |
| Dimensions | 208 x 232 x 9mm | 617g |
| Publication date | 2022 |
| Publisher | Tölgy Kiadó |
| Language | Hungarian |
Reviews

1 rating




Bobák Sándorné
|

17/05/2022
A minták nagyon jól követhetőek a leírás alapján.
Free Delivery
FREE DELIVERY: to your address or parcel shop by GLS: in orders above 25.000 HUF
REDUCED DELIVERY COST :to your address 990 HUF or parcel shop 890 UF by GLS: in orders between 16.000-24.999 HUF
SPICK UP AT WAREHOUSE: Győr - Gyárváros, Monday-Friday: 8-18:00 - by pre-aligned appointment