More pictures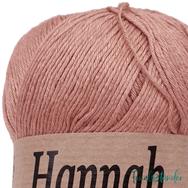 Borgo de Pazzi - Hannah - 29 - peach pink yarn
Ball weight:
100 gram
Ball length:
300 meter
Needle / hook size:
2.25 - 3.5 mm
Yarn weight:
2 - fine
Fiber content:
Lyocell

Borgo de Pazzi Hannah 29 is a special shiny, peach pink, super soft 6-ply twisted fine weight yarn (recommended needle or hook size: 3-3.5 mm). It's made from Lyocell (eucalyptus), which gives the knitted or crocheted garments special breathability, resistance, and moisture absorption. Lyocell production does not use harmful carbon disulfide its production is eco-friendly. One ball weighs 100gram and is 300 meters long.

You can read more about the Borgo de Pazzi yarn factory here. I read more >>>

You can read more about Borgo de Pazzi - Hannah premium yarns here! I read more >>>

Stock:

8 pcs in stock

Unit price:
9.97 Ft/meter
Loyalty points available to receive:
120

Manufacturer:
Description
What to knit/crochet with Borgo de Pazzi Hannah?

Hannah is perfect for knitting shawls, tops, accessories for spring and summer seasons, or crocheting baby garments because it is antiallergenic. Look around in Yarn Fariy's pattern collection to find a project with this yarn! I would like to find a pattern >>>
Parameters
| | |
| --- | --- |
| Fiber content | 100% Lyocell |
| Recommended hook / needle size | 3-3.5 mm |
| Yarn weight | 2 - Fine/Sport weight yarn |
| Ball weight | 100 gram = 3.52 oz |
| Ball length | 300 meter |
| Knit Gauge (10x10 cm = 4x4 inch, needle size 3.5 mm) | 30 stitches, 35 rows |
| Square Weight (10x10 cm = 4x4 inch, hook size 3.5 mm) | 8 gram |
| Washing | handwash only |
| Ironing | iron at low temperature |
| Drying | Natural drying / Tumble drying (low temperature) |
Reviews

3 rating




Körmendi Ildikó
|

06/05/2022
Nem először vásárolok fonalat, megelégedéssel. A fonal színe és a fénye szép, az amit vártam. A tapintása úgyszintén az amit vártam egy könnyű, kellemes puha anyag. Csak egy kis próbadarabot kötöttem vele, de úgy tapasztalom könnyen kezelhető, nem csomósodó, a visszabontott és újra kötött felület nem tér el az eredetitől. Úgy érzem egy kellemes , jól használható nyári felső válik belőle. Nem bántam meg a választást.
Ági
|

15/04/2022
Vékony fonal, nagyon puha, finom tapintású. Szép, könnyű, légies dolgokat lehet belőle készíteni. Babatakarót horgolok belőle. Nekem a 2.5-es tűvel jobban tetszik, szebben mutat a minta. A színe is gyönyörű!
Ildikó
|

09/04/2022
Teljes mértékben meg vagyok elégedve a termékekkel. Amigurumi és játék figurákat csinálok a fonalakból, és a tűkkel.
Free Delivery
FREE DELIVERY: to your address or parcel shop by GLS: in orders above 25.000 HUF
REDUCED DELIVERY COST :to your address 990 HUF or parcel shop 890 UF by GLS: in orders between 16.000-24.999 HUF