More pictures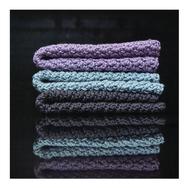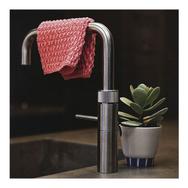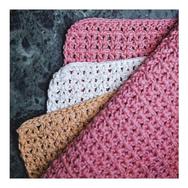 Horgolt konyharuhák, törlőkendők - könyv
Pattern language:
Hungarian

Tedd Te is konyádat otthonossá - horgold meg saját konyharuháindat, törlőkendőindet! A könyv 11 modellt kínál, amelyek elkészítésekor megismerkedhetsz a horgolás alapjaival, új fonalakat próbálhatsz ki, vagy remekül feldolgozhatod maradék fonalaidat környezettudatos módon. A színes, újrahasznosítható horgolt törlőkendők tökéletesen alkalmasak takarításra, emellett díszítik a konyhát, és ajándéknak sem utolsók. A Horgolóiskola fejezet lépésről lépésre mutatja be a horgolt szemek elkészítési módját, segítve egyrészt a kezdőket az alapok elsajátításában, másrészt a gyakorlott horgolókat a tudásuk felfrissítésében. A modelleket különböző nehézségi fokozatokba sorolták, hogy mindenki megtalálja a tudásszintjének megfelelő darabot, amelyet örömmel készíthet el.

A konyhakendők elkészítéséhez 1-es, azaz nagyon vékony (angolul Fingering) vastagágú tiszta pamut fonalat javasol. Ennek megfelelően a Fonaltündér a Scheepjes Catona és Scheepjes Cotton8 fonalakat ajánlja több mint 90 színárnyalatban! Egy kendő készítéséhez 1 gombolyag 50grammos Scheepjes Cotton8 fonal vagy 2 gombolyag 25 grammos Scheepjes Catona fonal elegendő.

Szerző: Camilla Schmidt Rasmussen és Sofie Grangaard
Kiadó: Cser Kiadó
Nyelv: magyar

Stock:

out of stock

Manufacturer:
Description
A tartalomból:
- Miért horgoljunk konyharuhát?
- Bevezetés
- Horgolóiskola
- Minták : Hullócsillag, Téltemető, Tetőcserép, Nyalóka, Kockásliliom, Tengeri szellő, Erdő mélye, Reggeli harmat, Színes blokkok, Nagyi, Fűrészfog
Parameters
| | |
| --- | --- |
| Craft: | crochet |
| Format | Paperback | 60 pages |
| Dimensions | 205 x 205 x 6mm | 215g |
| Publication date | 2018 |
| Publisher | Cser Kiadó |
| Language | Hungarian |
| Author | Camilla Schmidt Rasmussen és Sofie Grangaard |
Reviews

1 rating




Kissné Márton Márta
|

01/06/2022
Tetszik a könyv, igényes, szép kivitelezésű, a mintaleírások érthetőek, különösen, hogy szöveggel és ábrával is szerepelnek.
Free Delivery
FREE DELIVERY: to your address or parcel shop by GLS: in orders above 25.000 HUF
REDUCED DELIVERY COST :to your address 990 HUF or parcel shop 890 UF by GLS: in orders between 16.000-24.999 HUF
SPICK UP AT WAREHOUSE: Győr - Gyárváros, Monday-Friday: 8-18:00 - by pre-aligned appointment