More pictures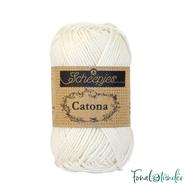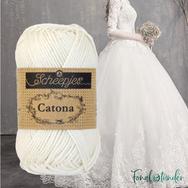 Scheepjes Catona 105 Bridal White - cotton yarn
Ball weight:
25 gram
Ball length:
62.5 meter
Needle / hook size:
2.25 - 3.5 mm
Yarn weight:
1 - super fine
Fiber content:
cotton

Scheepjes Catona 105 Bridal White is a mercerized 100% cotton super fine / fingering yarn. "Mercerisation" is a textile finishing treatment which improves, tear strength and reduces yarn shrinkage, and the surface of the yarn will be silkier. Its white color reminds of a beautiful ivory silk bridal dress. This yarn is perfect for amigurumi toys, crocheted dress up dolls, baby boy toys. Catona is suggested for colorful handmade crochet bags, home decorations, knitted baby blankets, hats or cloths.

You can read more about Scheepjes yarn factory here. I read more >>>

You can read more about Scheepjes Catona cotton yarn here! I read more >>>

Stock:

out of stock

Unit price:
9.44 Ft/ meter
Loyalty points available to receive:
24

Manufacturer:
Description
You can fit Catona yarn colors to each other easily thanks to the well designed constant color palette with many color shades. Inspiring color combinations for beautiful craft ideas are available on our Blog! I would like to see the color suggestions >>>
Catona cotton yarn comes in 109 shades with recognizable shade numbers, to enable projects with a combination of yarn weights but the same shades, for example using Scheepjes Cahlista, Maxi Sweet Treat.
Look around in Yarn Fariy's knit and crochet pattern collection to find a project with this yarn! I would like to find a pattern >>>
Parameters
| | |
| --- | --- |
| Fiber content | 100% mercerized cotton yarn |
| Recommended hook / needle size | 2.5 - 3.5 mm |
| Yarn weight | 1 - super fine - fingering |
| Ball weight | 25 gram = 0.88 oz |
| Ball length | 62.5 meter = 68 yard |
| Knit Gauge (10x10 cm = 4x4 inch, needle size 2.5 mm) | 26 stitches, 36 rows |
| Crochet Gauge (10x10 cm = 4x4 inch, hook size 3 mm) | 22 stitches, 10 rounds double crochet |
| Square Weight (10x10 cm = 4x4 inch, hook size 2.5 mm, double crochet) | 7 gram |
| Washing | Wash at or below 40°C |
| Ironing | Iron at medium temperature (150 °C) |
| Drying | Natural drying. Dry it flat. Do not tumble dry |
Reviews

6 rating




Klaudia
|

17/03/2023
Nagyon szép színe van. Kezdőknek megfelelő fonal, nem bolyhosodik.
Bernadett
|

27/12/2022
Akik nem rikító hófehér fonalat szeretnének, azonak ez tökéletes választás, épp csak egy árnyalattal sötétebb, sejmesebb fehéret kapnak.
Anita
|

17/12/2022
Nikoletta
|

11/05/2022
Nagyon jó minőségű, könnyű vele bánni, nem bolyhosodik, nem jön szét szálaira. Kezdőknek is kiváló. El is készült belőle egy Hedvig bagoly (7cm) és még egy unikornis felére is maradt belőle.
Kati
|

20/04/2022
Harry Potter témájú gyermekfoglalkozásra készítek a gyerekeknek kis meglepetés ajándékokat. Ezek még csak a prototípusok, de úgy érzem menni fog. A fonalak kiváló minőségűek.
Viki
|

15/10/2021
Azért rendeltem Tőled, mert minden színből volt nálad raktáron. Köszönöm a gyors és precíz kiszolgálást!
Free Delivery
FREE DELIVERY: to your address or parcel shop by GLS: in orders above 25.000 HUF
REDUCED DELIVERY COST :to your address 990 HUF or parcel shop 890 UF by GLS: in orders between 16.000-24.999 HUF