More pictures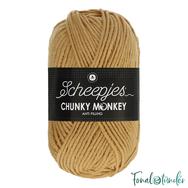 Scheepjes Chunky Monkey 1420 Mellow - beige acrylic yarn
Ball weight:
100 gram
Ball length:
116 meter
Needle / hook size:
4.5 - 5.5 mm
Yarn weight:
4 - medium
Fiber content:
acrylic

Scheepjes Chunky Monkey 1420 Mellow yarn balls beautiful yellowish-beige shade resembling an autumn flower. It is an amazingly soft Medium / Aran weight (4) yarn made from lightweight, hypoallergenic Premium Acrylic (recommended hook size: 5mm). This yarn boasts a lovely thick texture, and what's more, it's super easy to care for. A core feature of Chunky Monkey is that it is an Anti-Pilling Yarn. (You may already be familiar with those pesky little balls appearing on your knitwear garments or children's stuffed toys after frequent use; this is what we call Pilling.) Scheepjes Chunky Monkey, on the other hand, has been specially designed to prevent pilling! 

You can read more about Scheepjes yarn factory here. I read more >>>

You can read more about Scheepjes Chunky Monkey premium acrylic yarn here! I read more >>>

Stock:

8 db in stock

Unit price:
12.84 Ft/meter
Loyalty points available to receive:
60

Manufacturer:
Description
You can easily fit colors to each other thanks to Scheepjes Chunky Monkey well designed constant color palette with 93 amazing colors. Look Yarn Fairy color combo suggestions on Blog! I would like to see the color suggestions >>>
Thanks to its thick Aran weight, this yarn is best suited to creating large items such as blankets, home décor items and children's toys, as well as chunky jumpers, jackets, beanies, and shawls. Look around in Yarn Fariy's pattern collection to find a project with this yarn! I would like to find a pattern >>>
Parameters
| | |
| --- | --- |
| Fiber content | 100% premium acrylic |
| Recommended hook / needle size | 5-5.5 mm |
| Yarn weight | 4 - medium - Aran weight yarn |
| Ball weight | 100 gram = 3.52 oz |
| Ball length | 116 meter = 126 yard |
| Knit Gauge (10x10 cm = 4x4 inch, needle size 5 mm) | 13 stitches, 18 rows |
| Crochet Gauge (10x10 cm = 4x4 inch, hook size 5 mm) | 13 stitches, 7 rounds double crochet |
| Square Weight (10x10 cm = 4x4 inch, hook size 5 mm, double crochet) | 8 gram |
| Washing | Wash at or bellow 40°C gentle |
| Ironing | Iron at cool/low temperature |
| Drying | Natural drying / Tumble drying (low temperature) |
Reviews

2 rating




Vivien
|

04/11/2022
Kicsit féltem ettől a színtől, de élőben sokkal szebb árnyalat, mint a képen. Jó választás volt! Maga a fonal is szuper! És már több helyről is rendeltem, de itt volt a legigényesebben becsomagolva, ez egy hatalmas pluszpont a Fonaltündérnek!
Ny. Tünde
|

01/02/2022
Kedves , segítőkész hozzáállás és gyönyörű , tökéletes minőségű fonalak ! :) Biztosan fogok rendelni még!
Free Delivery
FREE DELIVERY: to your address or parcel shop by GLS: in orders above 25.000 HUF
REDUCED DELIVERY COST :to your address 990 HUF or parcel shop 890 UF by GLS: in orders between 16.000-24.999 HUF