More pictures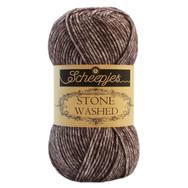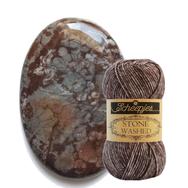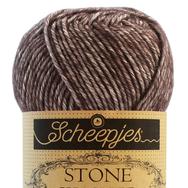 Scheepjes Stone Washed 829 Obsidian - cotton acrylic yarn
Ball weight:
50 gram
Ball length:
130 meter
Needle / hook size:
2.25 - 3.5 mm
Yarn weight:
2 - fine
Fiber content:
cotton - acrylic

Scheepjes Stone Washed 829 Obsidian is a reddish-brown sport weight cotton based (78%) yarn blend. A really special yarn with a "tough name" and a soft, woolly feel. It has a warm and soft touch thanks to its 22% acrylic fiber content and stiff and strong at the same time. Stone Washed can work equally well for monochrome designs and also for the projects with multiple color changes thanks to its special character. The yarns are named after a natural stones. Obsidian is a very historical gemstone that has been used as a good luck charm from ancient times. Stone Washed yarn is a very popular yarn by Scheepjes adored by both customers and bloggers.

I think it is a perfect yarn for soft, warm colorful baby blankets, amigurumi animals, knitted clothes and crocheted handmade bags, shawls, hats or home decorations for example pillows...

You can read more about the Scheepjes yarn factory here. I read more >>>

You can read more about Scheepjes Stone Washed cotton-acrylic yarn blend here! I read more >>>

Stock:

6 pcs in stock

Unit price:
13.00 Ft/meter
Loyalty points available to receive:
68

Manufacturer:
Description
You can fit colors to each other easily thanks to Scheepjes Stone Washed well designed constant color palette. Each shade is named after a natural stone like "Black Onyx" or "Blue Apatite". Inspiring pastel and "earth colors" for beautiful craft ideas. Look Yarn Fairy color combo suggestions on Blog! I would like to see the color suggestions >>>
Stone Washed cotton-acrylic yarn blend comes in 36 shades with recognizable shade numbers, it's easy to combine with Scheepjes Catona or any other yarn from Scheepjes.
Look around in Yarn Fariy's knit and crochet pattern collection to find a project with this yarn! I would like to find a pattern >>>
Parameters
| | |
| --- | --- |
| Fiber content | 78% cotton, 22% acrylic |
| Recommended hook / needle size | 3-3.5 mm |
| Yarn weight | 2 - fine - Sport weight yarn |
| Ball weight | 50 gram = 1.76 oz |
| Ball length | 130 meter = 142 yard |
| Knit Gauge (10x10 cm = 4x4 inch, needle size 3 mm) | 24 stitches, 32 rows |
| Crochet Gauge (10x10 cm = 4x4 inch, hook size 3 mm) | 20 stitches, 10 rounds double crochet |
| Square Weight (10x10 cm = 4x4 inch, hook size 3 mm, double crochet) | 6 gram |
| Washing | Wash at or below 40°C |
| Ironing | Iron at medium temperature (150 °C) |
| Drying | Natural drying. Dry it flat. Do not tumble dry |
Reviews

2 rating




Liza
|

16/11/2021
Szeretem a barnás földszíneket a drappokkal keverni. A Stone Washed fonalak nagyon izgalmasak. És minden színe jól mutat a másikkal.
Lili
|

22/12/2020
Gyönyörű fonal. Öröm vele dolgozni!
Free Delivery
FREE DELIVERY: to your address or parcel shop by GLS: in orders above 25.000 HUF
REDUCED DELIVERY COST :to your address 990 HUF or parcel shop 890 UF by GLS: in orders between 16.000-24.999 HUF