More pictures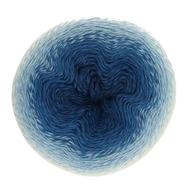 Scheepjes Whirl 553 Indigo Plane
Ball weight:
215 gram
Ball length:
1000 meter
Needle / hook size:
3.5 - 4.5 mm
Yarn weight:
1 - super fine
Fiber content:
cotton - acrylic

Scheepjes Whirl 553 yarn balls color resembles the indigo blue night sky. The color of the Whirl changes from light blue to dark shades. Scheepjes Whirl gradient yarn is made from a blend of 60% cotton and 40% acrylic to produce projects that are lightweight and breathable. Unlike other gradient yarns, Whirl has a generous twist to enable speed while working the yarn and to help prevent splitting. Each colour change is carefully tied in an optimum way to ensure the knot can be discretely hidden within your stitches. This Extra Large yarn cake holds an enormous 1000 meters of softly colour changing yarn, more than enough for a large shawl or wrap.

The beautiful drape of this yarn makes it perfect for shawls, accessories, garments and stylish home décor projects.

You can read more about Scheepjes yarn factory here. I read more >>>

You can read more about Scheepjes Whirl cotton-acrylic yarn blend here! I read more >>>

Stock:

1 pcs in stock

Unit price:
8.49 Ft/meter
Loyalty points available to receive:
340

Manufacturer:
Description
This delicious gradient yarn from Scheepjes comes in 54 amazing delicious colour ways. Each shade is named after a sweet cake like "Liquorice Yumyum" or "Blackberry Mint Chip". Look Yarn Fairy color combo suggestions on Blog! Look Yarn Fairy color combo suggestions on Blog! I would like to see the color suggestions >>>
Scheepjes Whirl 553 Indigo Plane is one from "The Ombré Collection". This Special Edition Series Whirl Ombré consists of 15 shades (color 551 - 565). Each colour-way is a single colour gradually and softly changing from its deepest to its lightest shade.
It is easy to combine Whirl with Whirlette which is a 100g ball (455m!) of exactly the same yarn as Whirl, but in a single colour, that co-ordinates beautifully with many of Whirl yarn cakes. It is suitable to extend a pattern using Whirl cakes, to join and border Whirl motifs with or to make sleeves on a garment. There are endless possibilities! I would like to see the color suggestions >>>
Look around in Yarn Fariy's knit and crochet pattern collection to find a project with this yarn! I would like to find a pattern >>>
Parameters
| | |
| --- | --- |
| Fiber content | 60% cotton, 40% acrylic |
| Recommended hook / needle size | 3-4 mm |
| Yarn weight | 1 - superfine - Fingering weight yarn |
| Ball weight | 215 gram = 7.58 oz |
| Ball length | 1000 meter = 1093 yard |
| Knit Gauge (10x10 cm = 4x4 inch, needle size 3.5 mm) | 25 stitches, 44 rows |
| Crochet Gauge (10x10 cm = 4x4 inch, hook size 3 mm) | 23 stitches, 12 rounds double crochet |
| Square Weight (10x10 cm = 4x4 inch, hook size 3 mm, double crochet) | 4 gram = 0.14 oz |
| Washing | Wash at or below 40°C |
| Ironing | Iron at medium temperature (150 °C) |
| Drying | Natural drying. Dry it flat. Do not tumble dry |
Reviews

1 rating




Vanda
|

26/10/2021
Mindig öröm dolgozni ezekkel a színátmenetes, könnyű fonallal. Ez már a többedik gombolyag, amit fel fogok használni. Kicsit féltem, hogy nagyon erős kék lesz a színe, de élőben sokkal természetesebb, lágyabb. Babatakaró fog készülni belőle :)
Free Delivery
FREE DELIVERY: to your address or parcel shop by GLS: in orders above 25.000 HUF
REDUCED DELIVERY COST :to your address 990 HUF or parcel shop 890 UF by GLS: in orders between 16.000-24.999 HUF